On 02/14/2022: the favorite festival of young and old children has started!
Pierre Becu awaits you there!
   It is in the effervescence and general enthusiasm that the Cinémino film festival for young audiences celebrated its opening on Sunday February 6 for 5 weeks.
Seeds of Hope is one of the 30 films selected to impress the whole family!!
From February 6 to March 13, Cinémino has been a myriad of screenings, encounters, exhibitions, surprises… throughout the Annecy basin and beyond!! A precious and festive moment eagerly awaited by all lovers and those curious about cinema.
The team of Seeds of hope is delighted that the film is part of this high quality selection.
The director Pierre Beccu will of course be present at the festival, to meet the spectators:
Tuesday February 8 at 8:30 p.m. at Ciné Laudon (St Jorioz)
Monday February 14 at 8:30 p.m. at the Rabelais (Meythet/Annecy)
Friday February 25 at 8:30 p.m. at the Turbine (Cran-Gevrier/Annecy)
Saturday February 26 at 6 p.m. at Novel/Mikado (Annecy)
Saturday February 26 at 8 p.m. at Parnal (Thorens-Glières)
Wednesday March 2 at 8:30 p.m. at the Seynod Auditorium (Annecy)
Cinémino is also a small price at 4.50 € for everyone (3.80 € per subscription) to satisfy the biggest appetites!!
All the programming on: https://festivalcinemino.org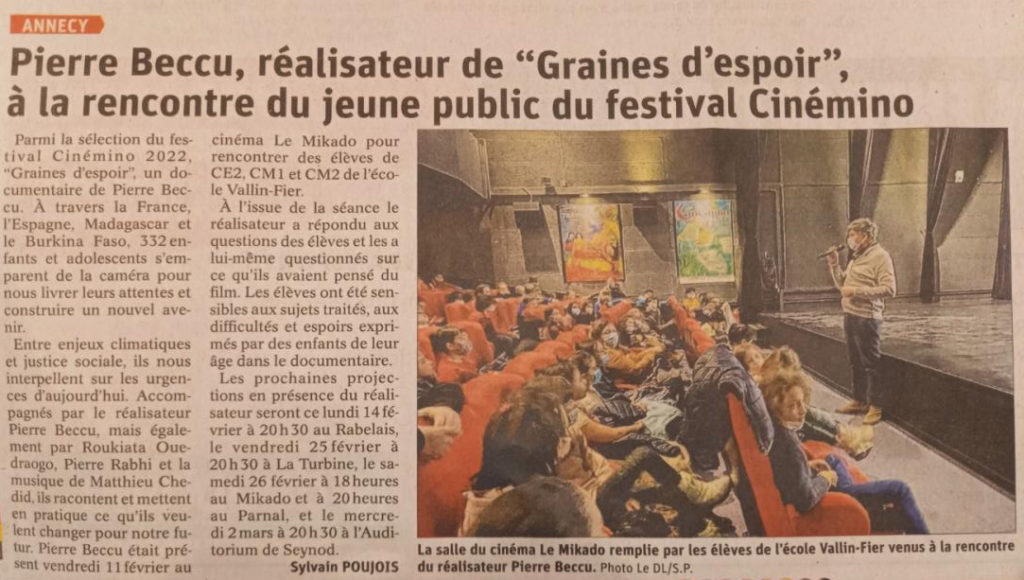 Pupils from the Vallin-Fier school in discussion with the director.