01/26/22: Following the 2 p.m. screenings, two online discussion sessions.
   Wednesday January 26 at 2 p.m. Seeds of Hope was officially released at the cinema on the national territory.
   After many preview sessions all over France, Seeds of Hope started its first week of operation with screenings in Grenoble (Le Méliès), Chambéry (Forum), Sète (Le Comoedia), Saint-Paul/La Réunion (Ciné Cambaie)…, as well as in Paris at the Luminor Hôtel de City, rue du Temple, in the Marais district (4th arr.).
   It was not far from there, in the premises of the Climate Academy, that director Pierre BECCU took part in an online discussion with the public, after the first 2 p.m. screenings, accompanied by a few Luminor spectators who had come join him.
Among the participants, Grenoble students from SUPCREA accompanied by their teacher Pierre-Yves MOULIN.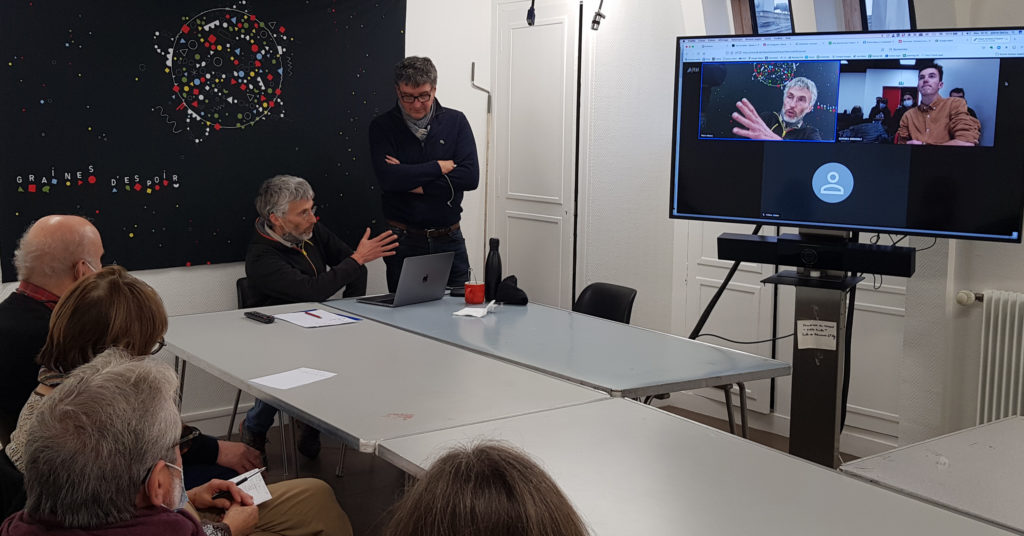 Discussion after the live screenings of the Climate Academy.

   At the end of the afternoon, the exchanges around Seeds of Hope these are pursued within the framework of the Learning Planet Festival which offered a webinar in partnership and moderated by Les Savanturiers – School of Research, represented by its director and founder, Ange ANSOUR. Alongside Pierre BECCU:
. Odile BURETTE and Frédéric ARCE, from the Platanes school in Piton Goyave, teachers participating in the film, live from Réunion,
. Agathe BOULANGER, schoolgirl participating in the film, also live from Reunion (Petite-Ile).
As well as
. Frédérick HEISSAT, school teacher and co-founder of the network Teachers in Transition,
. Philippe VINCENT, workshop director Landes canopy.
Webinar organized in partnership with 6Labs, Learning Planet Institute, Les Savanturiers – Research School, Profs in transition, Canopé and the Climate Academy.

   This first week ended on a high note for Seeds of Hope, in the Bauges, stronghold of Pierre BECCU, with school and public screenings in the Salle du Châtelard (Cinébus) where some of the children who participated in the film, their families, and many other spectators came to discover their work.
   The 6Labs association has enabled several spectators to attend these first screenings free of charge thanks to the generosity of companies, associations, communities and individuals.